LEAGUE & COMPETITIONMANAGEMENT
Stack Sports provides the industry's most comprehensive suite of technology services for associations, leagues, clubs, teams and tournaments to help manage all organizational activities more efficiently so organizations have more time to focus on their ultimate goals—developing athletes and creating the most rewarding athletic experience possible.
Registration
Websites
Tournament Management
Referee Assignment
Scheduling
On-the-Go Team and League Communication
Statistics, Performance, Live Streaming and Real-Time Scoring
OUR SUITE OF FULL-SERVICE PRODUCTS
By connecting the world of amateur sports through the use of technology, our suite of products solves the difficulties of running sports organizations by providing a comprehensive, Software-as-a-Service product for governing bodies, leagues, clubs, teams and referee associations.
Our full-service products are geared towards larger organizations to help them manage their online registration, finances, communications, scheduling and websites for your organization or tournament.
Learn more about how we can help your association, league, club, team or tournament.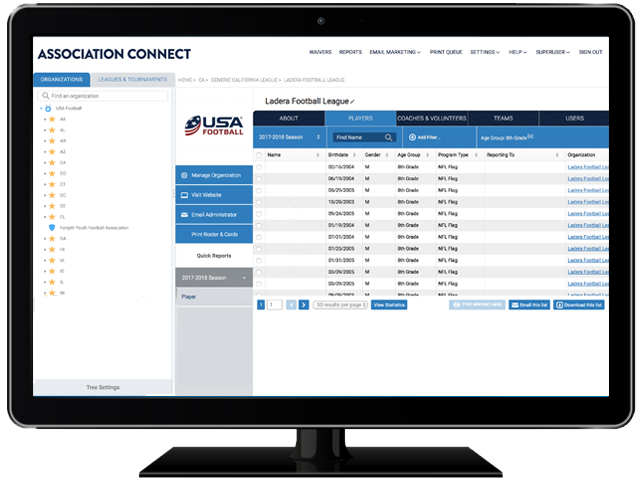 Association Connect
Organize and Manage Clubs and Leagues
Access Board Members
Access General Information: Website, Emails, Phone, etc
View Player, Coach, Volunteer, Team and User Data
Filter Players by Age, Program Type, etc
Check Background Status of Members
Filter Categories to a Specific Organization
Track Historical and Risk Management Records
Learn More
It is not hyperbole to pronounce Stack Sports as the fastest growing global provider of sports technology.
Club and League Connect
Create and Manage Your Website
Post Announcements, News, Photos and Schedules
Robust Tool and Widget Library
Create Club and League Game Schedules
Registration Event Management
Track Registration and Team Preferences
Monitor Registration Performance
Learn More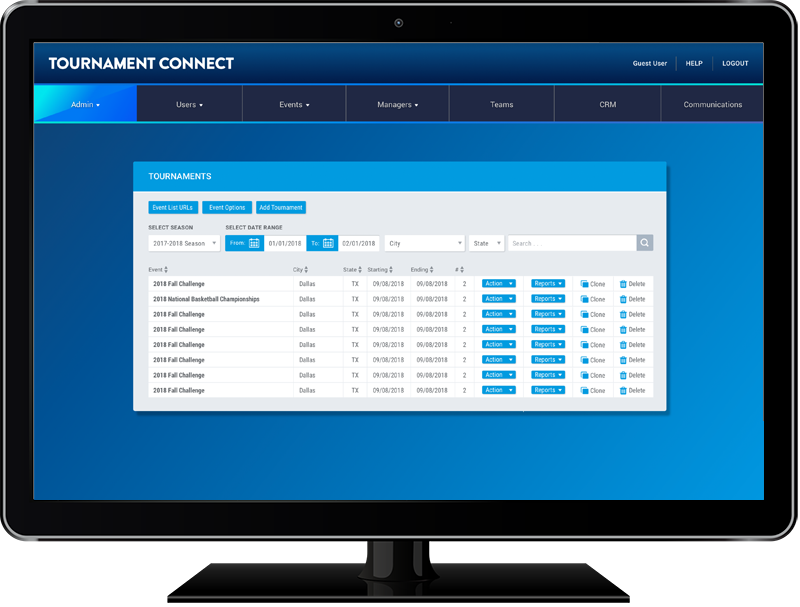 Tournament Connect
Tournament Registration
Collect and Verify Team Rosters
Schedule Multiple Tournaments
Publish Game Schedules to All Teams
Learn More
With backing from Dallas Cowboys owner Jerry Jones, private equity firms and even the NFL's investment arm 32 Equity, Stack Sports has set out to become a one-stop shop for all things youth sports, organizing leagues, tracking statistics and producing highlight videos.
Referee Solution
Powerful Official Assigning Tools
Enhanced Communication
Payment Management
Comprehensive Reporting
eLearning
Learn More
Team Connect
Social Network for Your Team
Coach Tools: Team Feed, Rosters, Email, Announcements, Schedules, Attendance, Text Alerts, Forms, Documents, Files, Photo Albums
Public Team Pages
Player Profiles and Contact Info
Parent Contact Information
Desktop and Mobile
Learn More
Stack has allowed us to run our rec hockey league like a professional hockey league, which has been well received by the players we currently had in our league, and to the many new teams we were able to attract.
Our Self-Service Products
LeagueLineup offers free, pro and elite versions of products for smaller organizations with a do-it-yourself approach. As the leader in league and team management solutions for youth and amateur sports organizations, LeagueLineup runs the websites, player registrations, leagues, teams and tournaments for tens of thousands of organizations.
Learn More
INTERNATIONAL PRODUCTS
SportsTG provides digital solutions and technologies to grassroots sport in Australia, New Zealand, United Kingdom and other international markets. Serving more than six million active sports participants and 60,000 grassroots clubs, Sports TG offers a full suite of management solutions:
Competition Management
Membership Management
Event Management
E-Commerce
Learn More
Statistics and Real-Time Scoring
Pointstreak is the leading provider of real-time scoring, advanced league administration, statistical systems and live streaming for league-based sports organizations. Our product line includes solutions for amateur and recreational sports leagues as well as for professional, collegiate, and junior leagues to help save time, money, and effort.