CLUBS, LEAGUES, TEAMS & ASSOCIATIONS
If you run a club, league, team or association, organizational and financial management has never been easier. Whether you are collecting registration fees, sharing information with members in real time or editing game film to prepare for your next opponent, we have a convenient and timesaving solution for you.
HOW WE CAN HELP YOUR CLUB
Our easy-to-use solutions provide you with registration capabilities, sports management and other aspects of running top-tiered clubs. Managing the many details involved in running a sports organization can be a daunting task, however we have made the management easy for you.
Easy navigation through a mobile-friendly system using your iPhone, iPad, or Android phone or tablet
Register and make payments for teams, clubs or leagues, including classes and camps
View schedules, standings and more
Update your information
Access your entire player database, review or edit your roster, create custom fields and post notifications all in one convenient location.
HOW WE CAN HELP YOUR LEAGUE
Stack Sports provides you with the intuitive tools that allow you to run activities, practices and other league events more efficiently so you have time to focus on your ultimate goals as a league administrator—developing athletes, creating positive relationships, teaching sportsmanship and fostering teamwork.
We know that it's imperative for you to quickly post scores, game results and league standings with ease. With our products, you will have complete control over league data so there is no bottleneck to slow down league communication.
Take payments for teams or individuals, including classes and camps
View registration, rules and important information
Post status for scheduled league games
Generate and modify forms
HOW WE CAN HELP
YOUR TEAM
Simplify game schedules, attendance and communication across your entire team with our suite of customizable online tools so that you can better manage your team, players and parents.
The current sports environment is more competitive than ever, making streamlining preparation and maximizing performance crucial elements. Producing remarkable team results requires time, energy and teamwork. That's why we're here to help you.
Use our mobile-friendly management system on your iPhone, iPad, or Android phone or tablet
Register your team for tournaments and camps
View practice times, game locations, statistics and more
Share information in real time
Upload game video and edit online from any device
Share key clips with your players prior to practice time
Personalize feedback to players or units of players for precision coaching
Record live video and edit and index the video while you travel and prepare for your next battle
Create presentations for your players
Keep track of players: what they watched, get feedback and interact with them individually
All of your team information will be housed in one, easy-to-access location making team management more convenient and easier that is has ever been.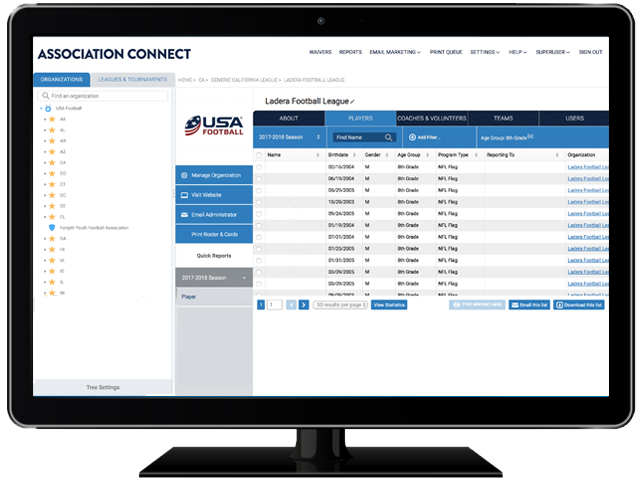 HOW WE CAN HELP YOUR ASSOCIATION
You can connect, manage and navigate the playing field with our end-to-end sports management solution.
Stack Sports lets you save time and energy organizing and managing your association's clubs and leagues with our easy-to-use software. Our product provides professionals and associations with the tools, knowledge and resources they need to enhance youth sports programs in their community.
Online Registration
Statistics and Performance
Payments
Communication and Scheduling
Access Board Members
Filter Players by Age, Program Type, etc
Check Background Status of Members
Filter Categories to a Specific Organization
Track Historical and Risk Management Records