Running a great sports association requires a unique and powerful toolset. Get the control you need and the convenience your members want. Stack Sports Association Connect gives you both while introducing incredibly convenient online tools for everyone along with the latest web-based features that replace paper and processes of the past.
ONE SYSTEM FOR EVERYONE
Less work, better data & happier members
Search, verify, report, history, transfers, print cards, rosters & more
Manage & view all member info
Contact Us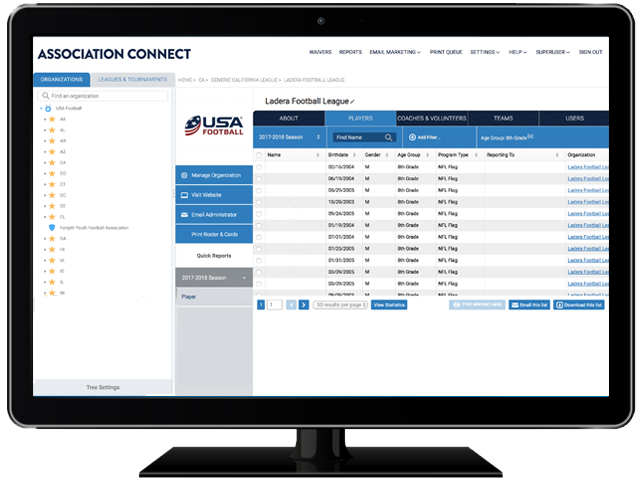 MANAGE YOUR MEMBERS
Bulk changes to manage volume
Instant background checks
Birth certificate verification
View profiles for each member
Track member history & movement across seasons
Edit member data
Print member cards
Track concussion education & data
Communication Channels
1-click group email
Send high volume email reliably
Create & share email templates
Member & board contacts always updated
Easily communicate with clubs & board members
Contact Us
Stack Sports Connect sports software makes running our clubs easy. They are responsive and listen when we have ideas and request something new in the software. We really feel like they are on 'our team'.
Marketing Reports & Tools
Lets you track trends & promote programs
Quick Reports access top metrics
Pull any data in the association database
Export to .csv file format
Contact Us
Financial Management
Complete invoicing for club member fees
Collect payments online
Post payments, adjustments
Generate statements
Easy payment options for clubs
Contact Us
Connected Association
Data from your clubs & leagues is connected to the association
All your members' info in one place
Approve & monitor all levels of assignments & transfers
Easy-to-use tools drive participation & buy-in from membership